Searching for holiday presents? Let's make this easy for you: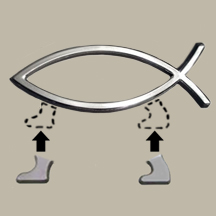 Yeah,
fish
feet.
Help any
'jesus fish'
evolve
. Gift them to poke a little fun at your christian friends, get a laugh out of your atheist friends, or buy some just for you to amuse yourself in parking lots by performing mass 'conversions.'
I'd say you're pretty much done shopping.
Happy holidays!
Or
...
...Merry Christ
menos
.